You've put in countless hours constructing and painting your kitchen cabinets, but don't overlook the importance of a topcoat. A topcoat not only enhances the appearance but also determines its durability. Don't skimp on selecting the right product and applying it with precision.
Should you put a top coat on painted cabinets?
Standard house paints have been improved so that the once common technique of varnishing over paint to increase durability has become virtually unknown. But the side effect—a rich luster and deepening of color—makes the practice well worth reviving for painting traditional kitchen cabinetry.
What to look for in a topcoat for painted cabinets
When choosing a topcoat for your painted cabinets, it's important to keep in mind that not all topcoats are suitable. To help you make an informed decision, here are a few checkpoints to consider. By following these guidelines, you can easily narrow down your options and find the perfect product that meets your needs.
Sheen Preference and Durability
When it comes to the sheen of your topcoat, it's important to consider both preference and durability. Most experts recommend a gloss finish as it is the most durable and easy to clean, making it ideal for high-traffic areas like your kitchen cabinets. However, if you prefer a less shiny finish, there are other options that are equally as good (more on the product review below)
Dark vs light colored cabinets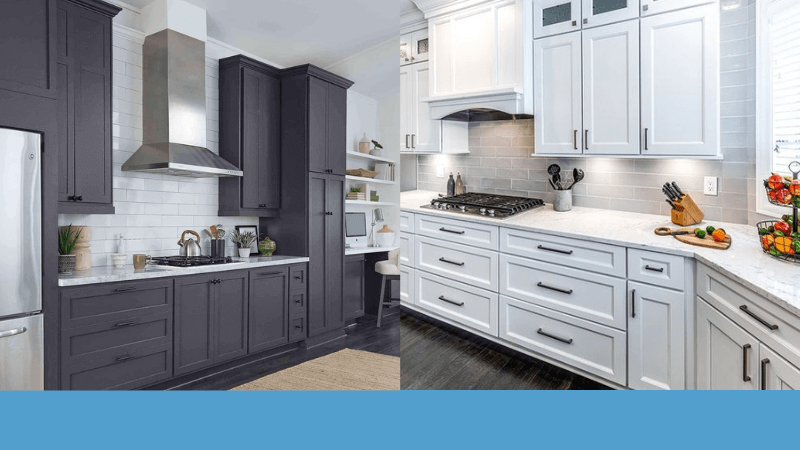 It's important to consider the color of your cabinets when choosing a topcoat. While oil-based finishes may make dark cabinets appear richer, the same cannot be said for lighter-colored cabinets. Oil finishes tend to add a slightly yellowish hue to light woods, making them look a little darker. This is why water-based finishes are a great choice for lighter-colored cabinets as they won't yellow over time.
Type of Finish
Another important factor to consider is the type of finish you want. Water-based finishes are a popular choice for painted cabinets as they dry quickly, have low VOCs, and are less likely to yellow over time. On the other hand, oil-based finishes provide a more traditional look and offer better durability, but take longer to dry and emit more fumes.
Application Method
Consider the application method for your topcoat. Some topcoats require multiple coats to achieve the desired finish, while others only require one. Some can be applied with a brush or roller, while others are sprayed on. It's important to choose a topcoat that works with your preferred application method and skill level.
Drying Time
Drying time is an important consideration when choosing a topcoat. Some topcoats dry quickly, allowing you to recoat in a short amount of time, while others take longer to dry and require more patience. Be sure to factor in drying time when planning your painting schedule.
Level of Protection
The level of protection offered by a topcoat is another important factor to consider. Look for a topcoat that offers excellent protection against scratches, moisture, and UV rays. The more protection your topcoat provides, the longer your cabinets will last without needing to be repainted or refinished.
Topcoat for light-colored cabinets
To ensure your painted cabinets retain their original color, it's crucial to select a topcoat that won't yellow over time. Water-based finishes are a great option as they are less prone to yellowing compared to oil-based finishes. Additionally, consider the color of your cabinets when choosing a topcoat. Lighter colors tend to pair better with water-based finishes, as the yellowing effect of oil-based finishes can be more noticeable on lighter shades.
Minwax Clear Polycrylic
Minwax is a premium water-based polyurethane, ideal for painted furniture due to its minimal yellowing properties. With a quick drying time and easy application using a brush or spray, it provides a durable and long-lasting finish for your cabinet's painted surface
We earn a commission if you make a purchase, at no additional cost to you.
Topcoat to flatten the sheen
High gloss finishes may look great in some kitchen designs, but they may not suit everyone's taste or style. If you're looking for a way to tone down the shine on your painted cabinets, there are several options to consider. One of the easiest and most effective ways is to apply a matte or satin topcoat over the high-gloss finish. This will create a subtle sheen that is more in line with a classic or traditional kitchen style. Some popular topcoats for this purpose include General Finishes Flat Out Flat, Rust-Oleum Chalked Matte Clear, and Minwax Polycrylic in satin finish.
General Finishes Flat Out Flat
Looking for a finish that gives a subtle sheen without compromising integrity? Try General Finishes Flat Out Flat. This low-VOC water-based finish offers quick dry times and top-notch protection for your painted cabinets, all while maintaining a quiet sheen.
We earn a commission if you make a purchase, at no additional cost to you.
How to apply a topcoat to painted cabinets
Here are the steps to follow for applying varnish to painted cabinets:
Allow the paint on the cabinets to dry completely.
Use 320-grit wet-and-dry paper to scuff the surface of the cabinets, which will help the varnish adhere.
Remove the dust with a tack rag.
Apply a coat of your preferred topcoat.
Sand the cabinets again with fine-grit sandpaper and apply a final top coat.
Let the cabinets dry for at least 3 to 4 days, or longer if you're using spar varnish. Water-based finishes may be recoated in the same day, depending on conditions.
Buff out the finish with polishing compounds to achieve the desired level of shine.
Conclusion: Top coat for painted cabinets
Choosing the right topcoat for your painted cabinets is important to ensure their longevity and appearance. Consider factors such as sheen preference, durability, and color when making your selection. If you have light-colored cabinets, opt for water-based finishes to avoid yellowing over time. And if you want to reduce the shine on a high-gloss finish, consider using a matte or satin topcoat.
Mego Kimani
Hi there, my name is Mego Kimani, and I am the owner of Woodmeter, a website dedicated to wood finishing. At Woodmeter, we offer a comprehensive resource for woodworkers and DIY enthusiasts, providing information on everything from achieving the perfect finish to product recommendations and technique guides. Our goal is to empower our community with the knowledge they need to create beautiful, long-lasting finishes on their projects, no matter their skill level or experience.