Water-based polyurethane has less odor than its oil-based counterpart. Water-based poly is also very clear, a property ensuring the appearance of your floorboards remains natural. Water-based poly also happens to be very fast-drying. This means you can recoat it in 2 to 3 hours. But this fast drying capability leaves little room for mistakes. Water-based poly may show surface flaws unless applied with skill.
Challenges with water-based finishes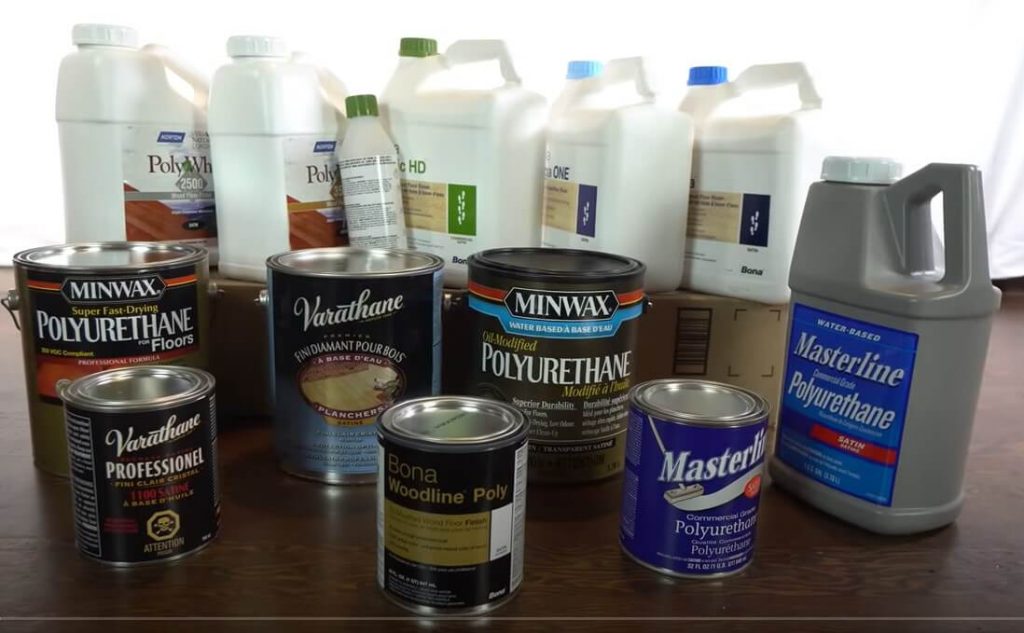 Whether it's poly or stains if they are water-based they will raise grain in your wood. According to research conducted by the Forest Products Laboratory under the US Department of Agriculture, Raised grain can be dealt with in two ways; Wet sanding with fine-grit sandpaper before the first coat of poly and the use of a sanding sealer.
Finishing hardwood floor with water-based poly
As we have seen above water-based polyurethane has many advantages. It is worth mentioning that water-based is also really easy to clean and maintain. Less odor means it's of low risk to your health and your home will not have a strong solvent smell common with oil-based products with high amounts of VOCs.
The only challenge seems to be in the application process. This guide, therefore, breaks down the application process into easy-to-follow steps that will ensure a flawlessly smooth finish for your floorboards. But before that here are the tools and materials that are needed.
What you will need
a Standard for floor finishing will help you work the wall edges easily.
Rollers are better than brushes as they will spread a large area more evenly than a brush. This is not to say a brush cannot be used.
You can go for any water-based poly in the market. I just like the Bona products for their longevity and resistance to scratching they are good for high-traffic subjects like floors.
Sander
If you do not have a sander I recommend finding one for hire in your area. But if you can buying one is always a good investment
Raising the grain
To deal with raised grain we have to intentionally raise it by sponging with water the floorboards. After the grain is raised we give it about 30 minutes for the wood to dry leaving the wood fibers "fuzzed up" and ready for sanding with grit 400 sandpaper.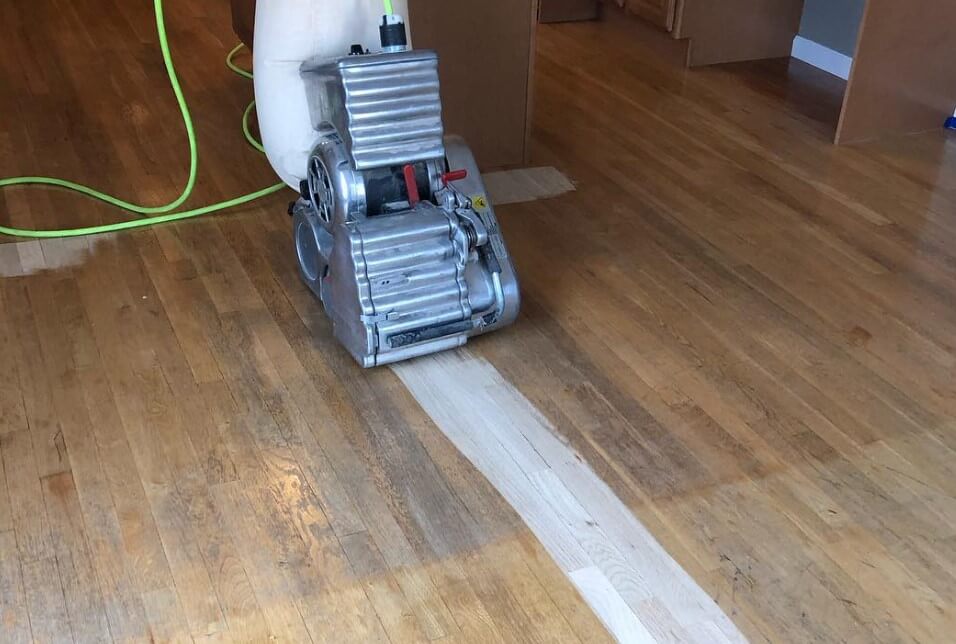 A study of raised grain made by E. M. Davis of the Forest Products Laboratory shows that sponging wood with water causes the loose ends of fibers to twist, swell and protrude. On redrying, they do not resume their initial shape and position but remain erected a certain amount from the surface. On resanding the dry surface with fine sandpaper many of the particles of fuzz can be torn apart without producing an equal amount of new fuzz.
Check out our guide on cleaning poly floor
Sealing the wood
To stick down any remaining loose grain fibers a thin coat of sealer should be applied at this step. the sealer should be applied using a roller since it's quicker and guarantees a more even application.
To apply the sealer start with the edges close to the wall but remember to plan your exit well. you don't want to start at the door and work your way into a blind corner that you can't get out.
Following the manufactures instruction allow the sealer to dry then use your orbital machine with a grit 400 sandpaper or higher. then vacuum and wipe off the dust ready for our top coat.
How to apply water-based polyurethane to floors
1. Apply poly from the wall
Just like in applying the sealer, we want to start with the edges of the wall first. A Cut-in portion of about 1 ft from the wall is ideal. Use the cut-in pad as illustrated below.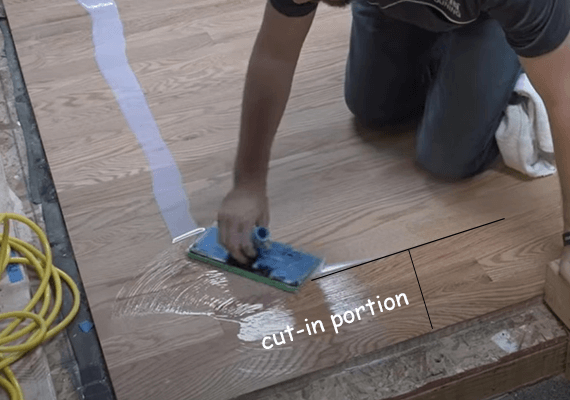 2. Maintain a wet edge
To work the poly easily pour a line that's 4″ thick (wet edge) of poly and pull it back towards yourself. As you roll back the roller lift it off to feather the edge and make them blend.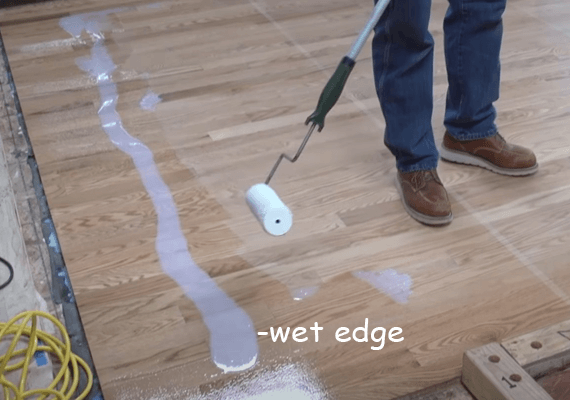 3. Keep rolling back the finish to cover the entire floor
keep rolling the medium back as shown in the image below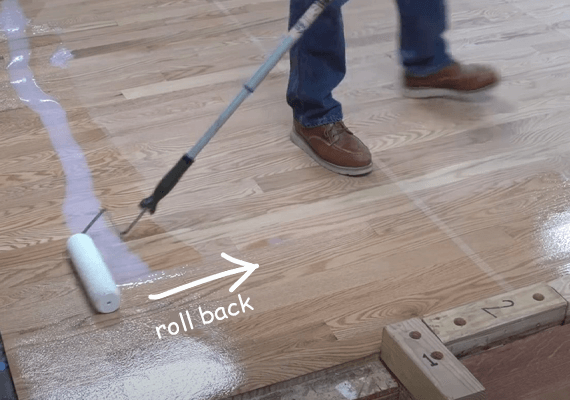 4. Planning your exit
As stated earlier planning your finish is important. you want to work your way from the interior going to the exit. once you have the entire floor completed you can let the floor dry as per the recommendations of the manufacturer.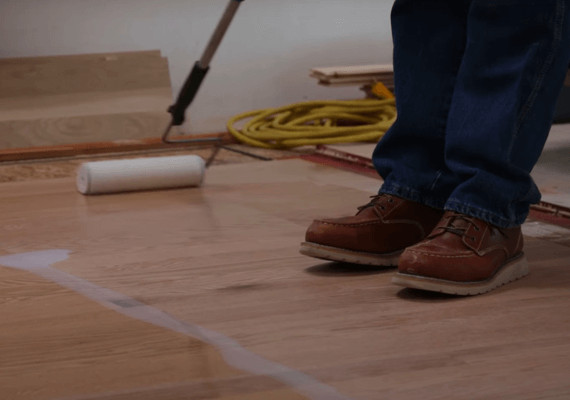 Should you sand between coats of water-based poly?
Sanding is an important step that will help the top coat more even and ready to receive a topcoat. Sanding between coats ensures that the finish appears smooth and even.
It is essential to clean and where possible even vacuum the floor after sanding just shortly before subsequent recoats. this ensures that your finish is clear and does not have dust suspension that later on makes the finish appear clouded.
How many coats of water-based poly for floors?
The number of coats for floors is a question I get asked a lot. The truth is the thicker the layer of coatings the more protective the finish is. However, when the layer becomes too thick the finish tends to look like a plastic sheet.
two to three coats of water-based poly are fine for wooden floors. In case you use a sanding sealer then 3 coats of water-based poly are enough.
Read –Choosing a finish for your wooden floor
–Best brushes for applying poly on floor
Mego Kimani
Hi there, my name is Mego Kimani, and I am the owner of Woodmeter, a website dedicated to wood finishing. At Woodmeter, we offer a comprehensive resource for woodworkers and DIY enthusiasts, providing information on everything from achieving the perfect finish to product recommendations and technique guides. Our goal is to empower our community with the knowledge they need to create beautiful, long-lasting finishes on their projects, no matter their skill level or experience.