Pine is a versatile and popular wood for both beginners and professionals. It's moderately soft, affordable, and sustainable. Additionally, working with pine is generally easy with hand or power tools. However, finishing it can be a challenge. Despite this, pine's straight grain and plain appearance make it ideal for staining and sealing or painting. Moreover, the natural beauty of patterned and knotted pine can be enhanced with a simple application of tung oil. In this article, we will explore the top finishes for pine. These finishes range from highly durable to subtle and rich-looking.
Natural-looking subtle polyurethane
Best natural-look Poly
Bona Traffic Naturale Commercial Matte
Polyurethane finishes are often criticized for their glossy appearance, which can give wood surfaces an artificial, plastic-like look. However, with Bona Traffic Naturale Commercial Matte, this is no longer a concern. This product provides a natural finish that effectively protects the wood, without sacrificing its authentic appearance. Having tested various low-sheen poly products, I can confidently say that Bona Traffic Naturale Commercial Matte is the best option available.
We earn a commission if you make a purchase, at no additional cost to you.
Why i like Bona traffic naturale
This finish is highly sought after for its ability to minimize the appearance of scratches and imperfections, making it a great choice for high-traffic areas. Additionally, the finish offers a great underfoot feeling, adding to the overall comfort and quality of the wood surface. The use of a water-borne formula also makes it an environmentally friendly choice, with low VOCs and quick drying times.
Considerations
However, it is worth noting that this product comes with a higher price tag, reflecting its superior craftsmanship. Although the application process can be challenging, with the right techniques and a good quality roller, achieving a professional finish is achievable.
Best budget Natural look poly for pine
Runners up
Loba 2K Invisible Protect
Loba 2K Invisible Protect is a fantastic option for those looking for a subtle finish that still provides excellent protection and durability. Compared to our top pick, this product is more affordable but still boasts many impressive features. Its water-based formulation makes it an environmentally-friendly choice, ensuring that there is no lingering bad odor after application. Overall, Loba 2K Invisible Protect is an excellent choice for anyone seeking a budget-friendly, high-quality finish for pine floors.
We earn a commission if you make a purchase, at no additional cost to you.
Pine floors Natural look poly finish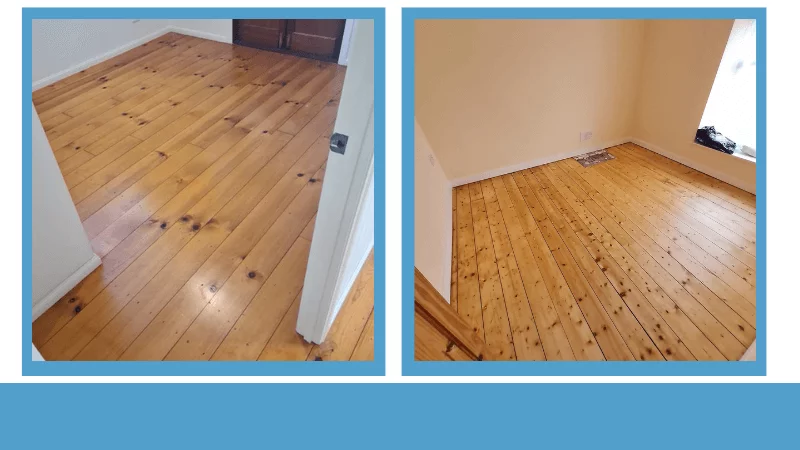 Most durable finish for pine floors
Most Durable
General Finishes High-Performance Topcoat
This is hands down our best recommendation for a durable finish that shows minimal yellowing over time. While many poly finishes tend to yellow with age, this particular option is highly resistant to yellowing, as evidenced by numerous positive reviews from satisfied customers. If you have painted pine floors that require a topcoat for added protection and longevity, look no further than this exceptional finish.
We earn a commission if you make a purchase, at no additional cost to you.
Sealing and staining pine floors
Changing the color of pine floors with stain can be a challenging but rewarding process. Unlike painting, staining preserves the natural grain of the wood. However, achieving the desired color can be difficult due to pine's uneven absorption of stain.
The blotch problem or is it?
The earlywood, or spring wood, is much softer and more porous than the latewood, or summer growth, which makes pine unevenly absorb penetrating stains. This results in dark areas in some spots and lighter areas elsewhere, making the staining process unpredictable. However, for those who adore the rustic look, this inconsistency is not a problem but a work of art. In fact, some skilled artisans take advantage of the patterns and allow the blotch to happen, resulting in remarkable and stunning finishes, as shown in the photo.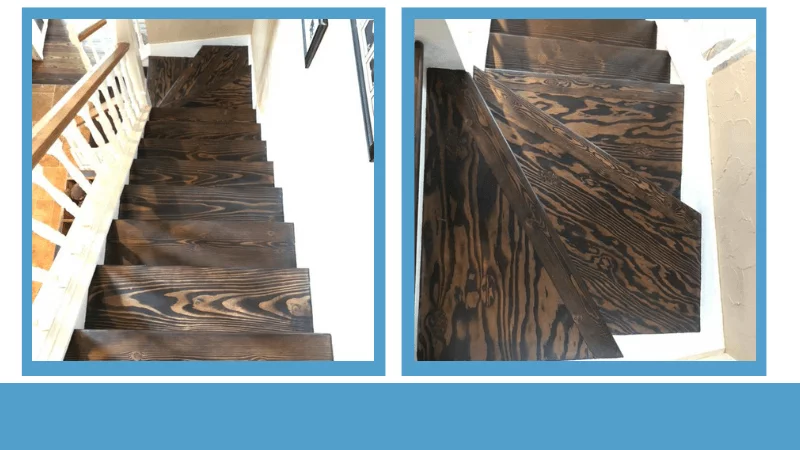 Preventing Blotching in pinewood
Preventing blotching in pinewood is essential to achieve a consistent and desirable finish. Fortunately, there are several effective ways to approach it. Firstly, you could use a sealer coat, which seals the soft earlywood and makes it more like the harder latewood, evening out the absorption of stain. Another way is to use a pre-stain conditioner that penetrates the wood's pores, reducing the absorption of the stain and preventing blotching.
Additionally, selecting the right type of stain, such as gel stains, can help achieve a more uniform appearance. Lastly, adjusting the sanding schedule and using a fine-grit sandpaper can help minimize the differences in wood density, leading to a more even absorption of stain.
Another effective approach to preventing blotching in pinewood is toning and glazing. While this technique requires more technical skill, it can yield impressive results. To achieve this, first, seal the pine floorboards with polyurethane. Then, apply the stain between coats of polyurethane, which helps prevent the stain from being absorbed unevenly into the wood. Toning and glazing not only prevents blotching but also enhances the natural grain of the wood, giving it a richer and more vibrant appearance.
Why do we seal pine after staining
It's important to seal pine after staining, but this applies to all types of stained wood, not just pine. Stain alone doesn't offer the same level of protection as a topcoat, so to provide mechanical, heat, and waterproof protection, you need to seal the wood after staining. In fact, applying a topcoat is a crucial step in any staining project. The only exception is when using stains that have built-in polyurethane or varnish, which offer some level of protection on their own. However, even in these cases, applying an additional topcoat can further enhance the durability and longevity of the finish.
Also read: Painting and sealing wood floor
Tung oil for pine floor
Tung oil is a popular finish for pine floors because it enhances the wood's natural grain and gives it a warm and cozy look. This finish has become increasingly popular as people seek to create a more natural and organic feel in their homes. However, tung oil requires more maintenance than some of the other finishes mentioned earlier.
If you're interested in finishing your pine floors with tung oil, it's important to choose the right type of tung oil. Pure tung oil is a good option as it provides a natural, non-toxic finish that is safe for children and pets. Additionally, to achieve the best results, it's essential to prepare the wood properly before applying the tung oil. This involves sanding the floors thoroughly, removing all dust, and applying a sealant before the tung oil. With proper application and maintenance, tung oil can be an excellent option for achieving a beautiful and natural-looking finish on your pine floors.
Best tung oil for pine floor
Waterproof Tung Oil Finish
Looking for a high-quality, affordable finish for your pine floors? Genuine tung oil may be just what you need. This versatile finish enhances the natural beauty of pine, giving it a warm and cozy feel that's perfect for any living space. It's easy to apply, food safe, and provides excellent water resistance. A great choice for those looking for a more natural finish. Tung oil can make the grain of pine pop and bring out every detail. Not convinced check pictures below!
We earn a commission if you make a purchase, at no additional cost to you.
Natural look tung oil on pine floors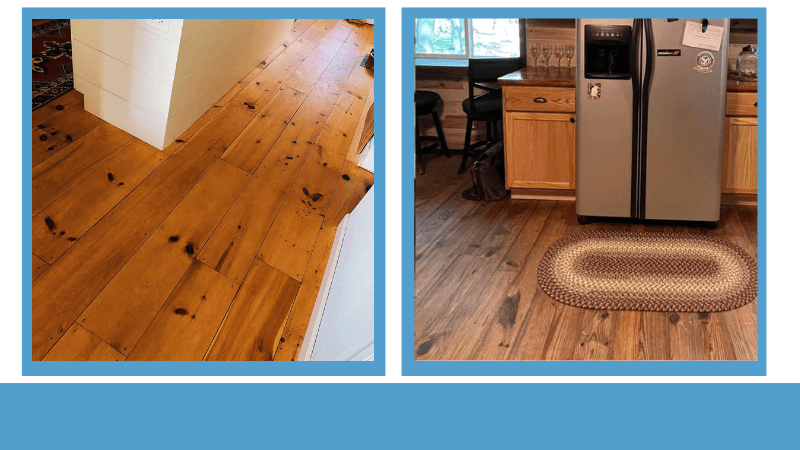 Best finishes for pine floors: Key takeaways
In conclusion, we have explored various aspects of the topic at hand.
We have analyzed the different perspectives and opinions presented by experts in the field.
Our research has revealed key insights and important findings that shed light on the issue.
It is clear that there are both advantages and disadvantages to the topic, and it is important to consider both sides before making any decisions.
Ultimately, the best course of action will depend on individual circumstances and needs.
However, it is important to prioritize safety, sustainability, and ethical considerations in any decision-making process.
Overall, our research has provided valuable information and recommendations that can help individuals and organizations make informed choices about the topic at hand
Mego Kimani
Hi there, my name is Mego Kimani, and I am the owner of Woodmeter, a website dedicated to wood finishing. At Woodmeter, we offer a comprehensive resource for woodworkers and DIY enthusiasts, providing information on everything from achieving the perfect finish to product recommendations and technique guides. Our goal is to empower our community with the knowledge they need to create beautiful, long-lasting finishes on their projects, no matter their skill level or experience.