If you are working on a tight budget, preferably on a project where the smoothly planed lumber is not a priority, then rough-sawn lumber is your safest bet. This type of lumber undergoes the most basic wood preparation processes after tree felling, making it significantly cheaper than traditionally planned lumber.
While rough-sawn timber offers an inexpensive option for projects such as internal frames, flooring beams, or outdoor structures, it is important to preserve the wood to protect it from damage and maintain its structural integrity. There are several wood preservative options available in the current market. However, it only makes sense that you pick an inexpensive, yet effective, product to complement your inexpensive rough-sawn wood. Herein, we will take an in-depth look at the best budget-friendly wood preservatives in today's market to ensure your rough-cut timber withstands the test of time.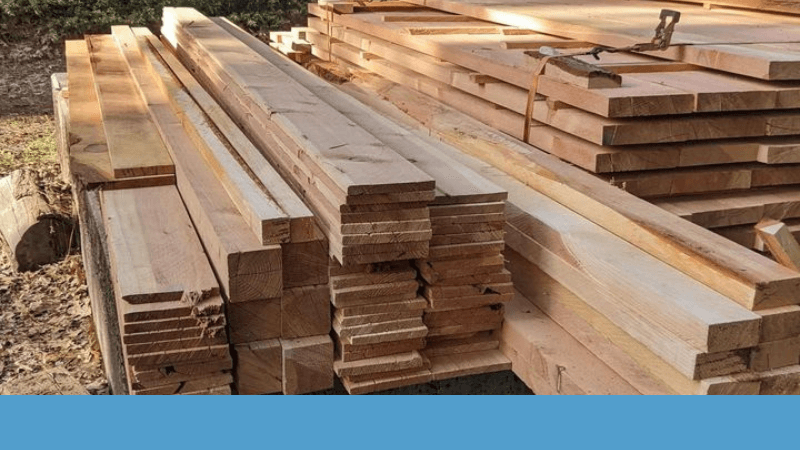 Best Preservative for Rough Sawn Wood
The best preservative is one that offers you good value for your hard-earned buck. In this case, the most highly recommended products available in today's market include:
Nisus PenaShield Clear Wood Preservative
Safeguard your wood against wood-damaging insects like termites, beetles, and carpenter ants with this advanced wood preserver. This is a versatile yet easy to use wood preservative.
We earn a commission if you make a purchase, at no additional cost to you.
Preferred Use
Specifically designed for outdoor applications, Nisus wood preserver can also be used for small indoor projects due to its mild smell.
Finish
The wood preserver, consisting of dissolved mineral salts, may darken or stain the wood surface, adding character and depth.
Versatility
This versatile wood preserver is effective for both outdoor and indoor projects, providing reliable protection with minimal odor.
Scent
Enjoy the convenience of a wood preserver with little to no noticeable smell.
Ease of Use
Applying the preservative is effortless – simply wipe or spray the liquid onto the wood surface using a brush, sponge, or cloth.
Value for Money
Nisus 30201 offers excellent value for money with its highly effective formulation. Please refer to the product's pricing for details on cost.
Tenino Copper Naphthenate
The oil-borne preservative is formulated with copper naphthenate blended in a hydrocarbon solvent, providing unparalleled protection against wood-burrowing insects and water-related damage. Whether it's fence posts, railway crossties, highway buildings, or utility poles, this powerful solution is designed to safeguard your large timber constructions.
We earn a commission if you make a purchase, at no additional cost to you.
Versatile Outdoor Use:
Perfectly suited for outdoor applications, this preservative is a reliable choice for all your wood projects. From decks to pergolas, it ensures long-lasting durability and resistance against the elements.
A Timeless Finish:
Applying the preservative leaves your wood surfaces with a rich, dark finish that gracefully ages over time, enhancing the natural beauty of the wood. Enjoy the rustic charm it brings to your outdoor spaces.
Ease of Application:
With its user-friendly design, applying the preservative is a breeze. Simply wipe the oil onto the wood surface, allowing it to dry and penetrate for optimal protection. It's a hassle-free solution for wood preservation.
Caution: Strong Scent:
While the preservative offers exceptional performance, the strong, pungent smell during application may be off-putting to some users. Ensure proper ventilation during use.
Unbeatable Value:
This preservative is available in convenient 1-gallon packs, providing ample coverage for your projects. Considering its high effectiveness and long-term protection, it offers outstanding value for your investment at an affordable price.
Protect your wood with confidence and choose Tenino Copper Naphthenate Wood Preservative for its superior performance, versatile application, and unbeatable value. Experience the ultimate protection and timeless beauty for your outdoor wood projects
Rust-Oleum Wolman (Woodlife) CopperCoat Green Preservative
Introducing Rust-Oleum Woodlife CopperCoat Green Wood Preservative, a top-notch solution with an advanced, EPA-registered formulation. This preservative is specifically designed to provide exceptional defense against ants, beetles, termites, mildew, mold, and decay, ensuring your wood stays protected for years to come.
We earn a commission if you make a purchase, at no additional cost to you.
Ideal for Outdoor Use:
Tailored for outdoor applications, CopperCoat is the ultimate choice for rough-sawn, non-treated wood. From decks to fences, garden furniture to exterior structures, it offers superior protection to withstand the elements and preserve the natural beauty of your wood.
Aesthetically Pleasing Finish:
Experience the beauty of nature with the distinct green hue that CopperCoat leaves on wood surfaces. Its seamless blending with the outdoor environment adds a touch of elegance to your projects, enhancing the overall aesthetic appeal.
Versatile Performance:
CopperCoat excels on all types of outdoor wood furniture, regardless of the wood species. Whether it's hardwood or softwood, you can trust this preservative to deliver consistent and reliable protection.
Mild Odor, Lasting Results:
While initially having a mild odor upon application, rest assured that it fades over time, ensuring a comfortable user experience. Enjoy the long-lasting benefits of CopperCoat without any lingering scent.
Effortless Application:
Achieve professional results with ease. Simply brush the preservative onto your wood surface and let it dry. Its user-friendly application process makes it accessible for both DIY enthusiasts and professionals alike.
Unbeatable Value for Your Investment:
Discover exceptional value for your money with CopperCoat. With a 32-ounce pack, you can confidently protect your wood projects without breaking the bank. Benefit from its high-quality formulation at an affordable price.
Choose Rust-Oleum Woodlife CopperCoat Green Wood Preservative for unmatched wood protection, outdoor versatility, and lasting value. Embrace the green hue and shield your wood with confidence, ensuring its beauty and durability for years to come.
Types of Wood Preservatives
There are three types of wood preservatives: These include:
Creosote
Traditionally used as antiseptics, creosotes are a type of carbonaceous chemicals made from fossil fuel pyrolysis and tar distillation.
Chromated Arsenicals
Abbreviated as CCAs, these types of preservatives are made from copper, arsenic, and chromium. They protect the wood from pests and insects that can damage the wood's structural integrity.
Pentachlorophenol
Also referred to as PCP, this is an industrial-grade wood preservative. It is most commonly used in public wooden constructions, such as cross arms and utility poles.
Alternative Wood Preservatives
Other notable preservatives include triadimefon, ACC (acid copper chromate), propiconazole, and isothiazolinones. ACC is strictly designed for commercial or industrial uses, while triadimefon is ideal for in-ground wood preservation. Propiconazole strictly works as a fungicide and cannot repel insects by itself.
How Wood Preservatives Work
Wood preservatives are a more convenient alternative to industrial treatment processes, such as pressure treatment or the full-cell process. These chemicals are registered pesticides and/or fungicides designed to protect the wood from wood-burrowing insects, pests, molds, sap stains, decay, and/or fungal rot. You can easily purchase these chemicals over the counter and apply them superficially using a brush or cloth.
Why Use Wood Preservatives on Rough-Sawn Wood
It is of paramount importance to use wood preservatives on rough-sawn wood since this lumbar undergoes the bare minimum, leaving it highly susceptible to structural damage from external factors such as insects, fungi, moisture, or sunlight. Ideally, rough-sawn wood is simply a felled tree cut to size using a saw. Such lumbar does not undergo any form of treatment.
The Downside of Wood Preservatives
While wood preservatives protect wood from insects and fungi, they lack the ability to offer UV and moisture protection. Ever since time immemorial, these chemicals have strictly been used alongside extra coatings of finish that serve as UV protectors and moisture replants. Nonetheless, technological advancements in chemical formulations of some new-age preservatives have made it possible for some wood preservatives to offer extra protection. Case in point, Tenino Copper Naphthenate offers wood protection against moisture in addition to wood-damaging insects.
Best Preservative for Rough-Sawn Wood
There is no one-size-fits-all answer to this conundrum. The best preservative for your rough-sawn wood depends on several variables. How suited is the preservative to the wood, your intended project, and most importantly, your budget?
If you do not mind buying in bulk and can withstand the pungent odor, Tenino Copper Naphthenate is arguably the best wood preservative for rough-sawn wood. In addition to protecting wood against insects, it also offers added protection from moisture, ensuring your wood lasts for a long. More importantly, its price for a 1-gallon pack is considerably lower than the average price for the ordinary 16 0r 32-ounce packs of other preservatives in the market.
Alternatively, if you are on a tight budget and do not wish to buy in bulk, the Rust-Oleum Woodlife CopperCoat Green Wood Preservative is the best preservative for you. It offers optimum protection against ants, beetles, and termites. It also offers protection against mildew, mold, and decay. Most importantly, it is by far the cheapest option in the current market, giving you the most value for your money.
Nisus 30201 Penashioled Clear Wood Preservative is also a notable choice. In addition to being exceptionally affordable, this preservative offers reliable protection against wood-damaging insects and has little to no smell, making it also ideal for indoor projects.
Factors to Consider
Buying a preservative for your rough-sawn wood is not as easy as walking to your nearest store and picking one from the shelf. There are certain factors that you need to consider to pick the best for your intended project. These include:
Level of protection
This is by far the most crucial factor to take into account. Look for a preservative that offers maximum protection against as many external elements as possible.
Price
Given that rough-sawn wood is inexpensive, it is only fitting that you buy a similarly inexpensive preservative to supplement your wood. It would be illogical to use a wood preservative that is costlier than the wood.
Ease of use
The best preservative is one that you can safely and easily apply by yourself in a hassle-free manner.
Durability
You need a preservative that will protect your wood for long. This will save you a lot of time and money as you will not need to reapply the preservative any time in the near future.
Scent
Some preservatives are scented while some are not. The latter can prove to be a major nuisance, especially those with exceptionally strong smells that last for long.
Best Preservative for Rough Sawn Summary
In summary, when working with rough-sawn wood, it's crucial to use a wood preservative to protect it from damage. The best budget-friendly options include Nisus PenaShield Clear Wood Preservative, Tenino Copper Naphthenate, and Rust-Oleum Wolman (Woodlife) CopperCoat Green Preservative. Factors to consider when choosing a preservative include the level of protection, price, ease of use, durability, and scent. Selecting the right preservative ensures long-lasting protection for your rough-sawn wood projects. However, to protect the wood and the preservative from UV and Rain you may need a topcoat check this guide on sealing pressure-treated wood. The guide will inform you on how to handle treated wood.
Mego Kimani
Hi there, my name is Mego Kimani, and I am the owner of Woodmeter, a website dedicated to wood finishing. At Woodmeter, we offer a comprehensive resource for woodworkers and DIY enthusiasts, providing information on everything from achieving the perfect finish to product recommendations and technique guides. Our goal is to empower our community with the knowledge they need to create beautiful, long-lasting finishes on their projects, no matter their skill level or experience.