Wooden stair treads are an unmatched choice for the best aesthetics in your home. However, being a high-traffic area of the house, choosing the best finish can be challenging for most, even those with knowledge of wood finishing. Stair treads present several problems. First, you want them to be durable, non-slip, easy to clean, and stand out for your guests and desires. All these problems can be easily overcome by making the right choice of finish. Polyurethane is the only product that has been reviewed and tested by professionals and DIYs and gotten the best recommendations. Consequently, this guide for the best polyurethane for your stairs analyses what our experts consider the best polyurethane product. It contrasts this main product with other products in the same category to expand your choices.
Best Overall
Bona Traffic Anti Slip
Bona Traffic anti-slip is the industry standard for durability and safety when it comes to non-slip polyurethane for wooden stairs. This high-quality product is a lacquer-formulated polyurethane that boasts all the desirable features of Bona Traffic HD, with the added benefit of anti-slip agents. The anti-slip agents in Bona Traffic anti-slip provide superior traction and slip resistance, making it an excellent choice for stairs in homes with children, pets, or anyone who wants to feel confident walking up and down the stairs.
We earn a commission if you make a purchase, at no additional cost to you.
Editors Pick-Polyurethane for Stairs: Bona Traffic HD anti-slip
Bona Traffic's latest formula comes in a 3785ml package, making it the highest-rated polyurethane product for stairs. Its non-slip and quick-drying satin formulation is perfect for hardwood use. It offers excellent protection against scratches and chemicals, ensuring durability and long-lasting finish. The product's water-based formulation, with low VOC levels, makes it ideal for interior woodwork, ensuring an eco-friendly and safe working environment.
Pros
Best non-slip product
Best protection against scuffs, scratches and chemicals
Easy to handle and use
Suitable sheen
Easy to clean
A large volume
Cons
A bit pricier
water-based finishes require more skill
Best Outdoor Stairs finish
Best outdoor
Minwax Helmsman Spar Urethane
Minwax water-based Helmsman is the ideal polyurethane for both interior and exterior wooden staircases. With its 0.01 ounces, 1-quart, water-based formulation, this product protects your wooden stairs against water, moisture, UV radiation, and scratches.
We earn a commission if you make a purchase, at no additional cost to you.
Minwax Water-Based Helmsman Spar Urethane
Whether your stairs are inside or outside, this product is the perfect solution for protecting them. It has excellent non-slip qualities and durability, ensuring that you won't slip on the stairs even if you're in a hurry. Additionally, the product comes in satin, semi-gloss, and gloss finishes, providing a pleasing aesthetic while producing a smooth surface that is easy to clean.
Water protection is also essential for stairs inside the house, as they are high-traffic areas that require constant cleaning. With Minwax water-based Helmsman, you can be sure your stairs will remain in excellent condition for a long time to come.
Pros
Suitable for use on both interior and exterior stairs
The water-based formulation makes it easy to use and clean
Very low VOC emissions
Protection against harsh weather conditions such as UV radiation, rain, and moisture
Multipurpose
Unique formulation allows it to expand and contract in response to weather changes.
Fairly priced
Cons
Does not add to the natural look of the wood.
Best Wipe-On Polyurethane for Stairs
Water-Base Wipe-On Polyurethane
While wipe-on poly may not be suitable for full projects it's still very ideal for small projects. This poly is also great for touch-ups and maintenance as it is the easiest poly to apply and dries remarkably fast.
We earn a commission if you make a purchase, at no additional cost to you.
If ease of application is your primary concern, then this product is your best choice. Wipe-On Poly is known for its ease of application, as only a cloth is required to achieve a smooth, even surface over your staircase. It is the safest way to protect against brush marks and drips that are often associated with application. This particular product comes in 1.15 pounds, 1 pint, satin, water-based formulation that provides all the needed qualities for your interior wooden stair treads.
Other key features of this product are its ultra-fast drying time, excellent durability and affordability. After the first coat is applied, recoats can be applied within two or three hours. This means you are able to work fast as considerably lesser time is required to achieve the desired layer of polyurethane over your wooden stairs.
Pros
Eliminates brush application and associated complications such as brush marks and bubbles
One of the best durability
Very fast drying
Its water-based formulation makes it easy to clean
Cons
Comes in a small portion therefore not good for big projects
Most durable polyurethane for stairs
Editor's Choice
General Finishes High Performance Water Based Topcoat,
General Finishes High-Performance Water-Based Topcoat is one of the most durable finishes available on the market today. It's easy to apply with a T-bar, brush, roller or spray. has fast drying times allowing multiple coats within the day.
We earn a commission if you make a purchase, at no additional cost to you.
Once you have settled on installing wooden stairs, you already know the type of wood color you want. General finishes satin topcoat is the best indoor polyurethane for your stairs. This product comes in a 2.4 pounds 1 quartz satin water-based formulation that enhances the natural color of your wood. Tried and tested, you can never go wrong with this polyurethane product for your wooden stairs.
This product combines all the features necessary for a polyurethane product for stairs. However, it does not beat the best in terms of quality. The key features this product boasts is that it comes in unique sheen. Most of the product reviewed have a clear sheen. However, this product comes with unique formulations that have pigments. These pigments produce rich, dark uniform colors on hard to stain woods.
Pros
Hardest, most durable polyurethane product for your stairs
Satin sheen makes it easiest to clean and best for home use
Fastest drying times: 1 to 2 hours between coats
Has the best customer and expert reviews
Easy to apply
Multiple uses
Cons
Best only for interior use
Not advisable to apply over bright white painted stairs as yellowing is bound to occur with time.
Relatively pricy
Buying Guide-Polyurethane for Stairs
Durability
Best poly for stairs buying guide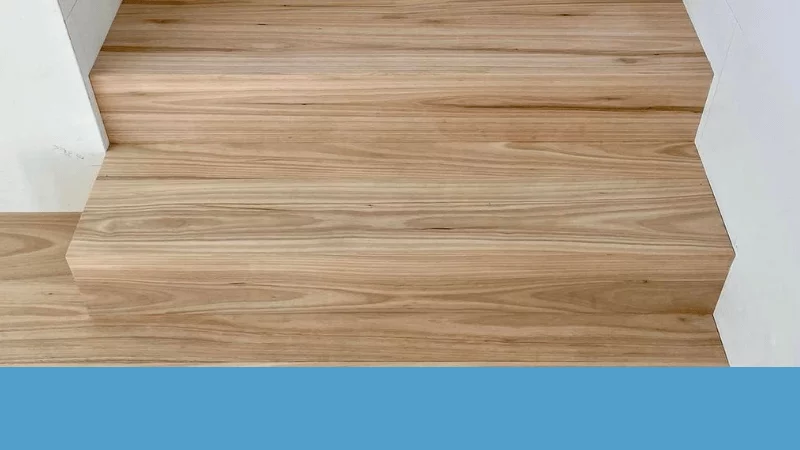 Stair treads are high-traffic areas. These are spots in your home that must be treaded upon daily. Consequently, staircases receive as much activity as your floors. Therefore, providing them with the best protection against wear and tear resulting from this activity is necessary. To achieve the desired level of protection that will last you the longest, the right choice of the right type of polyurethane is necessary. Our experts have sampled the best polyurethane products and come with the ones that will provide you with the longest-lasting durability for your wooden stairs.
Non-slip property
Wood in its natural state is rarely slippery. However, for your stair treads, you want more than the rough boring natural look of wood. Consequently, a key among the features necessary for your choice of polyurethane to have is to protect against slipping. In most cases, wood finishes leave behind a hard smooth coating. This is clearly obvious if you have wooden furniture such as a table that is finished. The surface is often smooth. This fact is felt when you a cleaning the furniture with a cloth. The clothe readily slides on the surface of the furniture. Now imagine walking over a set of stairs that smooth. The risk of falling is obvious. Therefore, when choosing a polyurethane that it is non-slip is a must. All the products reviewed in this guide meet this crucial consideration meaning that even children can play on the stairs without fear of falling due to slippery surfaces
Sheen
When it comes to your wooden stair treads, sheen can be thought of as the shine or the ability of the polyurethane to cause shine. Sheen is the polyurethane's ability to reflect light. The more light a polyurethane product is able to reflect, the more sheen that product has. These differences in light reflection result in a number of sheens. Sheen has several advantages for your wooden stair treads.
First sheen aesthetic quality to your wooden stairs. Since wooden stairs are not the highlight feature of your home, they do not need to steal all the attention from everything else. A suitable sheen for your stairs can be satin or semi-gloss. Another practical feature of sheen is the ease of cleaning. More sheen means a smothered surface that dirt and dust particles do not readily adhere to. As a result, this is an essential consideration for your wooden stairs. Stair treads are areas that need constant cleaning. Consequently, cleaning should be easy and fast. Our guide carefully considers the products with a suitable sheen to not only be aesthetically pleasing but for practical purposes such as cleaning.
Ease of Cleaning
Areas in your home that require constant cleaning, such as stair treads, must be easy to clean. No one has the time to waste cleaning the stairs for long hours regularly. Consequently, when deciding which product best suits your needs, remember that you will need to clean it constantly. Our experts agree that water-based satin polyurethanes are best for ease of cleaning. Their unique formulation requires only soap and water to clean.
Ease of Application
The best polyurethane for your stairs should be easy to use when applying. Ease of use depends on the type of product you settle on. For instance, water-based polyurethane products are the easiest to use since, unlike their oil-based counterparts, they have very low VOC levels. Our expert analysis has settled on the best water-based products that allow anyone to handle them without harming health and the environment.


Conclusion: best poly for stairs
The choice of the best polyurethane for stairs is a critical decision that can greatly impact both the protection and appearance of your stair treads. With countless options available on the market, it can be a daunting task to choose the appropriate product for your needs. That's why our team of experts, with years of experience in the industry, has compiled a comprehensive list of the best polyurethane products for stairs that are currently available in the market.
Our recommendations are based on thorough research, testing, and feedback from professionals in the field, ensuring that you get the best quality and performance for your investment. Among the recommended products, Bona stands out as a top-performing brand due to its durability, easy application, and enhanced appearance.
It's worth noting that opinions on the best polyurethane products for stairs may vary. Still, we stand by our recommendations as tried and tested options that have proven to offer excellent results. If you'd like to explore more options, we recommend checking out the discussion forums we've listed, which contain valuable insights and opinions from various users.

Mego Kimani
Hi there, my name is Mego Kimani, and I am the owner of Woodmeter, a website dedicated to wood finishing. At Woodmeter, we offer a comprehensive resource for woodworkers and DIY enthusiasts, providing information on everything from achieving the perfect finish to product recommendations and technique guides. Our goal is to empower our community with the knowledge they need to create beautiful, long-lasting finishes on their projects, no matter their skill level or experience.