Woodworking enthusiasts will agree that oil is an essential tool for giving wood a beautiful finish. Although oils are referred to as "oil," they are not purely oil, but a combination of chemical substances used for coating and finishing. Oils offer excellent protection for both the external and internal parts of the wood. Unlike other types of finishes that form a layer on the surface of the wood, oils penetrate the wood, offering protection from the inside out.
How Oils Work
Have you ever wondered how oil protects the internal parts of the wood? When you dip a piece of wood into an appropriate oil type for a short period, just like water rises in a plant through transpiration and capillary action, the same happens in the wood. All spaces within the piece of wood are filled with the oil, reducing the potential for expanding and shrinking due to moisture in the atmosphere. This process offers excellent protection for the internal part of the wood, but the surface of the wood still requires protection from wear and tear.
Varieties of Oil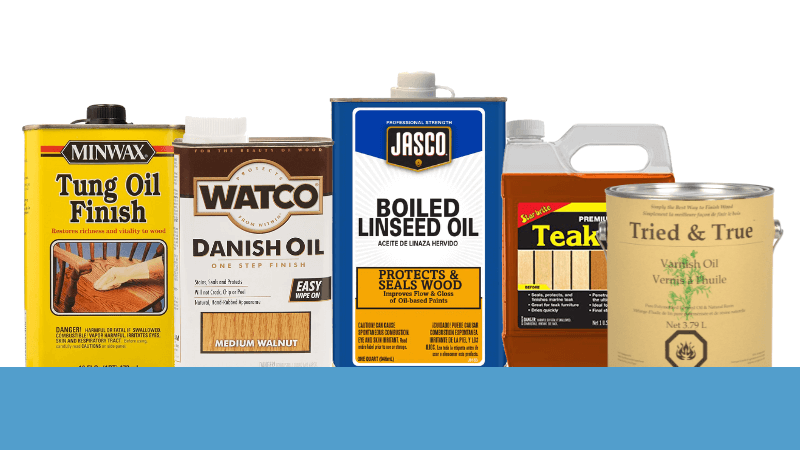 It's important to note that not all finishes that coat wood are oils. In fact, there are several types of oils with varying physical attributes, from thick to thin viscosity, and dull to glossy finishes. Here are some commonly available finishes tagged as oils:
Polymerized oils (polymerized linseed and tung oil): These oils are produced by heating them in the absence of oxygen to improve their desirable properties. They are expensive and have a fast-curing nature, making them difficult to work with on large surfaces.
A combination of varnish and pure oil: This mixture combines the best attributes of both finishes to offer better protection and gloss.
Typical varnish (1/3 parts of varnish plus 2/3 parts of mineral spirits): Varnish offers more protection than pure oil, but it also reduces the coating's protective ability. An example of this is Danish oil.
Straight oil is divided into two; linseed oil (boiled and raw types) and tung oil: Tung oil offers more protection than linseed oil.
Tips for Producing Your Own Finish
Mixing oils can be tricky, and the ratios of the combination will determine how effective the finish will be. It's best to start with equal amounts of both oil and varnish and gradually increase the ratio of the varnish until you achieve your desired result. The addition of mineral spirits can also help with the application, but it reduces the coating's protective ability.
In Conclusion
Oils are a popular choice for wood finishing due to their ease of application and ability to penetrate and protect the internal parts of the wood. However, not all finishes labeled as oils are true oils, and it's important to understand the different types available. Polymerized oils and varnish-oil combinations offer unique advantages, and it's important to carefully consider the ratio and application process to achieve the desired level of protection and gloss.
thewoodmeter
We are a team of woodworking experts specializing in floor and wood finishing. In thewoodmeter we share floor installation and floor finishing hacks and how-tos.